Celebrity Treatment at North America's
First Custom Suit Shop for Grooms
James Bond's Albert Thurston suspenders, Kanye West's favourite ties by Drake's London and the Holland & Sherry vintage barathea shirt and Barneys New York stud sets worn by Barack Obama at his wedding are just a few of the accoutrements available to guys at Garrison Weddings.
The first of its kind in North America, Garrison Bespoke opened Garrison Weddings, a bespoke shop exclusively for grooms and groomsmen. Located in Toronto's iconic King Edward Hotel, Garrison Weddings gives husbands-to-be the kind of royal treatment women have been treated to for centuries.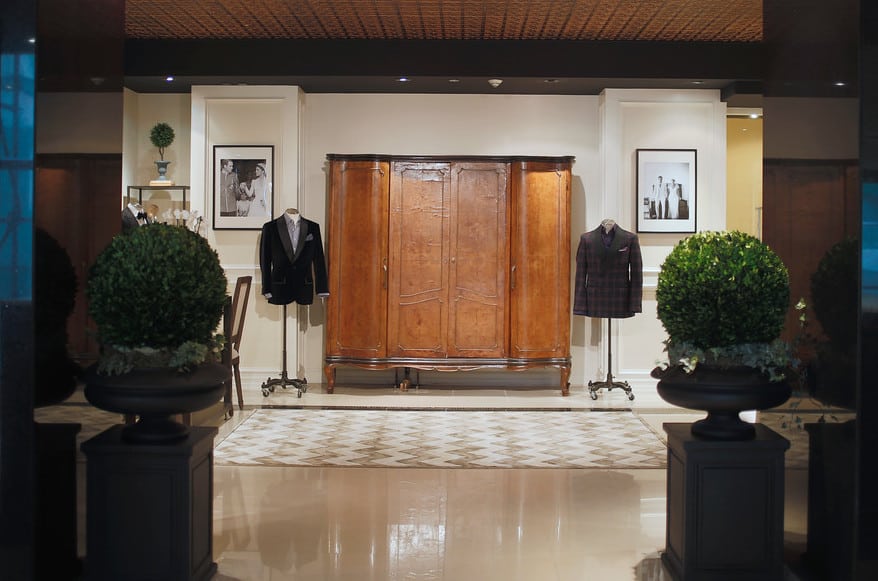 Garrison Weddings offers private, by-appointment-only experiences where grooms and their brides-to-be or their groomsmen sip champagne and scotch while perusing the largest selection of fabrics and formal wear accessories for men in Canada.
Our Jacket and Pants Are Made to Fit:
 6 Key Customizations for Your Perfect Wedding Suit
Each groom begins a five-fitting design process with a personal stylist who helps him select fabrics, colour schemes and details to complement his skin tone, personal style and wedding theme, while one of Garrison Bespoke's Master Tailors ensures the perfect fit. Garrison Bespoke suits and tuxedos are designed to look sharp down the aisle while being flexible and comfortable enough to allow them to do the splits at the reception and carry the bride over the threshold.
Let's Get You Ready.
We'll pour you a drink and talk suits during your free consultation.
[button-link color="red" url="https://garrisonbespoke.com/book-consultation/" size="small"] Book Now[/button-link]
Make Your Best Memories Last Forever
Our Signature Wedding Suit Is Designed to Make You Look Better in Photographs
Signature Wedding Jacket
Traditional Handmade English Chest piece looks and feels like Armour. Giving you a crisp, almost Corset like feel. Makes you Stand more upright and taller. So no wrinkles in Photos.
English or Italian Mohair and Wool Fabric gives the Suit subtle lustre and extra Sharpness when photographed. Weight of the cloth helps hide wrinkles when moving in your jacket and being photographed.
English Roped Shoulders provides the look of Wider More Athletic Shoulders, creating a Narrower Waist visual and creating more Shape to the body's silhouette
Nipped Waist – very aggressive Taper between Shoulders, Chest to Waist. The only Suit in Market where Suit Drop is 8 inches from Jacket to Pant. Creates very slim waist, client looks taller and leaner in photos.
Fuller Wide Lapels – a Classic Timeless Look that Further Broadens the shoulders and adds height to the wearer. Lower Button Stance Creates the illusion of more length in the Torso and an overall slimmer look.
Signature Wedding Pants
Loopless Pants with English Side Adjusters avoids the need for a belt which creates the lean lines between jacket and pant. Side adjusters can adjust size of pants if weight is gained or lost.
Higher Rise Pant with English Back wears the pants higher increasing the length of legs in photos for an elegant and tall look.
Every Man Deserves One Exceptional Suit in His Closet
Your Wedding Day Is the Perfect Time to Have One Made
Our grooms are in good company. Since opening its first location at King Street and Yonge Street in Toronto in 2008, Garrison Bespoke has attracted Toronto's most influential figures in business, finance, law, sports, fashion and food and entertainment including the cast of Suits and Hannibal, The Toronto Blue Jays, The Toronto Raptors, The Toronto Maple Leafs, Toronto FC and Drake to name a few.
We dress Toronto's most stylish grooms and groomsmen. Garrison will work closely with you to make sure you achieve the look you want so that you can make the mark you've always wanted to on one of life's most special days. The best part is that your suit can make its first appearance at your wedding and then follow you to your next board meeting or evening gala for years to come.
Every man deserves one exceptional suit in his closet — your wedding day is the perfect time to have one made.
For more Garrison Weddings look at our wedding stories.
Let's Get You Ready.
We'll pour you a drink and talk suits during your free consultation.
[button-link color="red" url="https://garrisonbespoke.com/book-consultation/" size="small"] Book Now[/button-link]
[/center-text]