GARRISON BESPOKE x SUITS TV
MILESTONE: THE MAKING OF THE ICONIC "HARVEY SPECTER LOOK"
Milestone looks back at some key, proprietary elements developed for Suits through 9 seasons with the show finally coming to an end in 2019. It was an amazing experience working with Jolie Andreatta and the incredible wardrobe team and Gabriel Macht in developing Harvey's look.

WIth the direction of the wardrobe team, Michael at Garrison shows what it takes for a character to exude style and confidence with legendary delivery. We started the show with strong & broad peak lapelled suits moving to sharply tailored Garrison notch lapelled suits.
Harvey Specter Peak Lapel
We designed the new peak lapel specifically for this season with a big curve sweeping to the button point. This counteracts with the narrow, slim fit and keeps Harvey looking broad by updating this lapel look after 8 seasons. Grey has always been his power colour - he wears it 80% of the time - and this shade displays a new confidence in 2019.
The commanding look & roped shoulder
Harvey Specter is Garrison a steel blue shadow check suit. This fabric is lighter in weight and more casual in pattern. To give it a distinct look we gave it strong roped shoulder, deriving a commanding look even while seated. An interesting contrast to the equally beautiful, lighter, deconstructed, and soft shoulders.
Each setting their own unique tone.
Season 7
Harvey Specter Notch Lapels
For the first few years prior to season 7 we had always looked at the idea of doing something different for Harvey's lapels. The idea of changing what had become known as the "Harvey Specter Look" was difficult to imagine. In Suits Season 7, Episode 11 "Hard Truths" we introduced something new.

The signature peak lapels that we put on him became an iconic, classic look so it was challenging to make a change to something that was so good. For Season 7 we developed a hybrid over several versions. The lapel was cut wider and higher than a normal notch lapel with an 80's inspired straight shape from the tip to the bottom. The result is something that is unique and signature to Harvey Specter. The notch lapel strengthens and broadens while creating freshness in a classic suit.

Season 9
Harvey Specter Sicilian Notch Lapel
Made specifically for Harvey Specter in Season 9 of Suits, this shape is an evolution of what we've done for this over the Yeats and is inspired by the shape of lapel worn in Sicily. This style is championed by the congnoscenti of the region for decades for the strong broad look it created.

The narrow, compact modern shape of the suit is balanced with the high gorge of the lapel; sitting below the collarbone with a distinct fish mouth cutout where the collar meets the lapel. This is paired with a wide, sweeping shape and a lower button stance created the maximum amount of broadness in the chest and the longest, leanest line. We finished the look with a strong rope on the shoulder with minimal padding.
PRESIDENTIAL BLUE NOTCH SUIT
The shade of blue worn by almost all current and past US presidents for its ultimate signal of power.
GET THE HARVEY SPECTER LOOK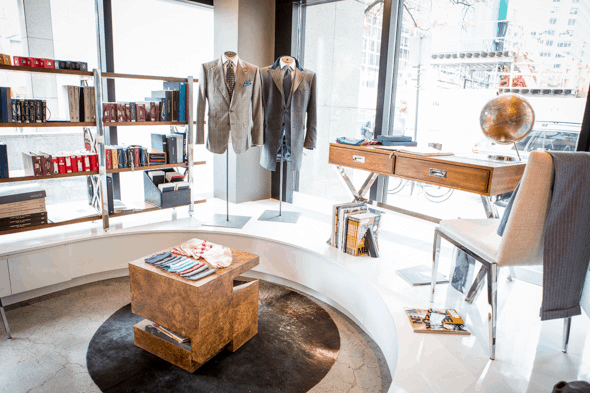 Financial District Flagship
Located at 26 Wellington St E.
Toronto, ON M5E 1S2

1 block east of Yonge St is convenient for all our Bay St. men looking to drop in between meetings or afterwork.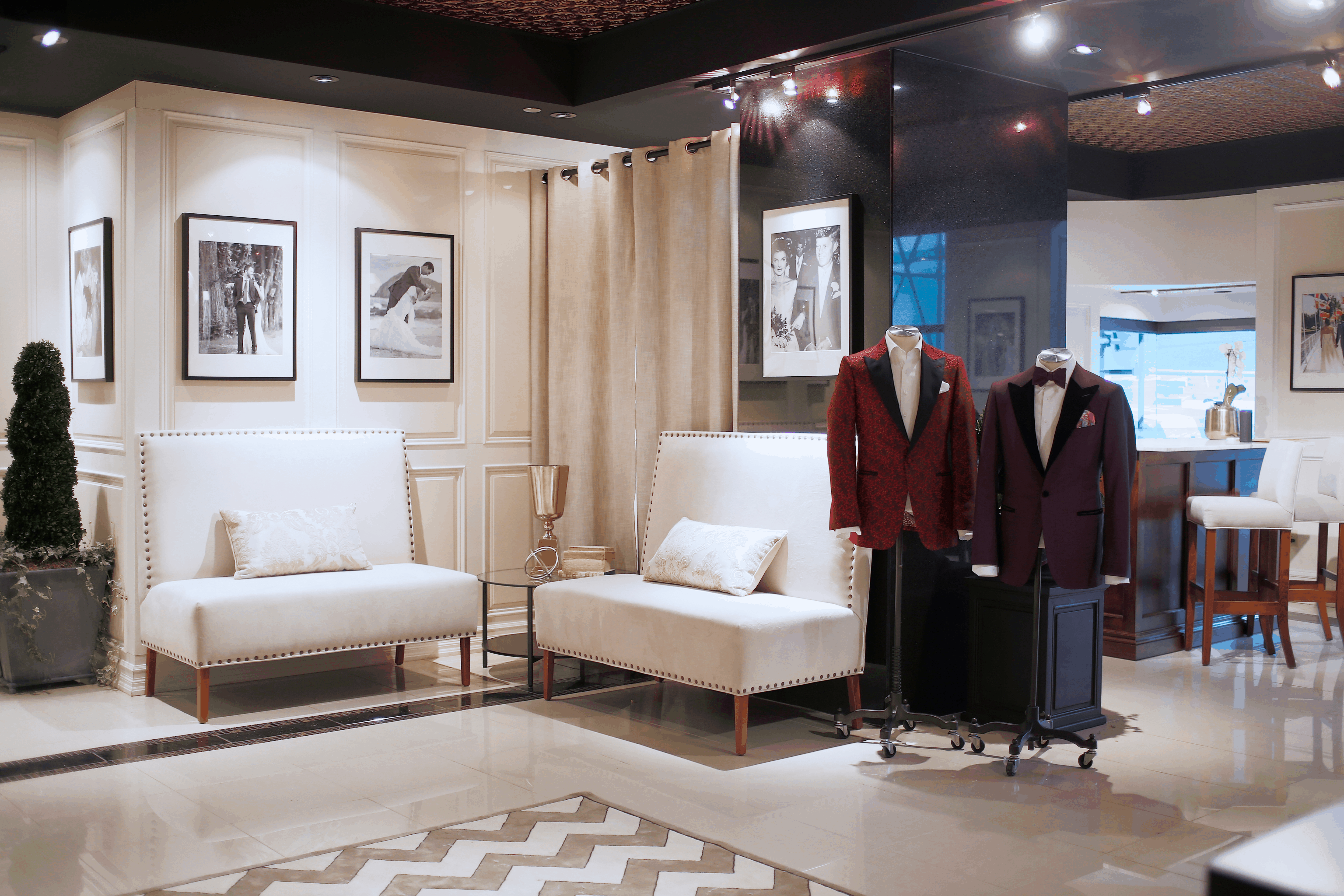 King Edward Hotel
Located at 37 King St E
Toronto, ON M5C 1E9

This shop is dedicated to dressing men for their celebration moments. The only store of it's kind in North America for uniquely tailored tuxedos to wear at a wedding or gala.