---
Garrison Bespoke
---
Financial District Flagship
| | |
| --- | --- |
| | 26 Wellington St E #101 (1 block East of Yonge), Toronto, ON M5E 1S2 |
| | 416-566-2041 |
| | [email protected] |
King Edward Hotel
| | |
| --- | --- |
| | 37 King Street E, Toronto, ON M5C 1E9 |
| | 416-566-2041 |
| | [email protected] |
---
Opening Hours
---
| | |
| --- | --- |
| Monday | Closed |
| Tuesday | 12:00 PM – 7:00 PM |
| Wednesday | 12:00 PM – 7:00 PM |
| Thursday | 11:00 AM – 7:00 PM |
| Friday | 11:00 AM – 7:00 PM |
| Saturday | 11:00 AM – 7:00 PM |
| Sunday | Closed |
Frequently Asked Questions
1
Do I need an appointment?
Yes. Shopping at Garrison is more like hanging with the guys – we pour you a drink, listen to some tunes, and get to know you as a man. This is how we're able to ensure every outfit we make for your wardrobe is a flawless fit for your lifestyle, not just your body. If you're in a rush – not a problem, we'll keep the talk short and get you on your way.
2
How much does a bespoke suit cost?
We have Canada's largest fabric library and import from the world's best known (and not so well known) mills. The cost will vary significantly based on the type and origin of fabric – be it Italy, UK, or Japan, or unique details of your garment's construction (embedded gems, gold, bulletproofing). Book a consultation with one of our stylists – you will be educated on what the most appropriate suit to flatter your body, colours to compliment your complexion, and what the gold standard "look" is for your profession. Book your consultation for custom suits contact Toronto, ON today at 416-566-2041.
Your initial consultation will last between 30 minutes to an hour. We're often told it's an enjoyable break from the day's hustle and bustle. Your suit will take anywhere from 4 to 6 weeks to complete. Depending on our tailoring load, we may be able to complete your garment sooner – especially for special events like Power Balls, Weddings, or film industry projects. For custom suits contact us to speak with one of our stylists about your particular needs at 416-566-2041.
4
Satisfaction Guaranteed?
We work really hard to create one of the best products in North America. We've built up our reputation – recently ranked as Canada's best bespoke and made to measure tailor by Sharp Mag because of our focus on delivering the best possible product combined with a unique shopping experience (that doesn't feel like shopping) for our guys. It's caught the eye of Discovery Channel who featured us as the most "refined" suiting experience in Canada. We're not telling you this to brag – but to assure you that we will make every effort to ensure you have a great experience. If things don't go the way you expect – let us know so we can make it right. We always do. Guaranteed.
Opening Hours
| | |
| --- | --- |
| Monday | Closed |
| Tuesday | 12:00 PM – 7:00 PM |
| Wednesday | 12:00 PM – 7:00 PM |
| Thursday | 11:00 AM – 7:00 PM |
| Friday | 11:00 AM – 7:00 PM |
| Saturday | 11:00 AM – 7:00 PM |
| Sunday | Closed |
Let's talk about your look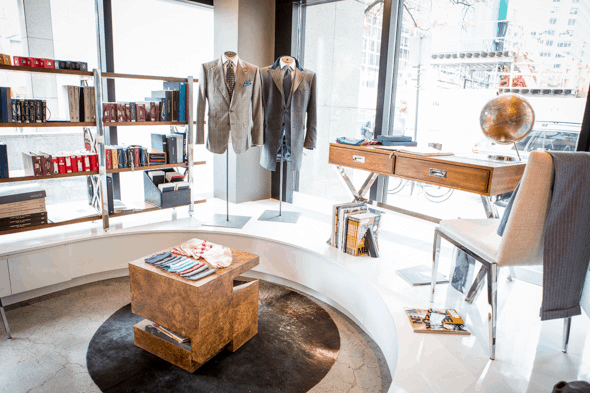 Financial District Flagship
Located at 26 Wellington St E.
Toronto, ON M5E 1S2

1 block east of Yonge St is convenient for all our Bay St. men looking to drop in between meetings or afterwork.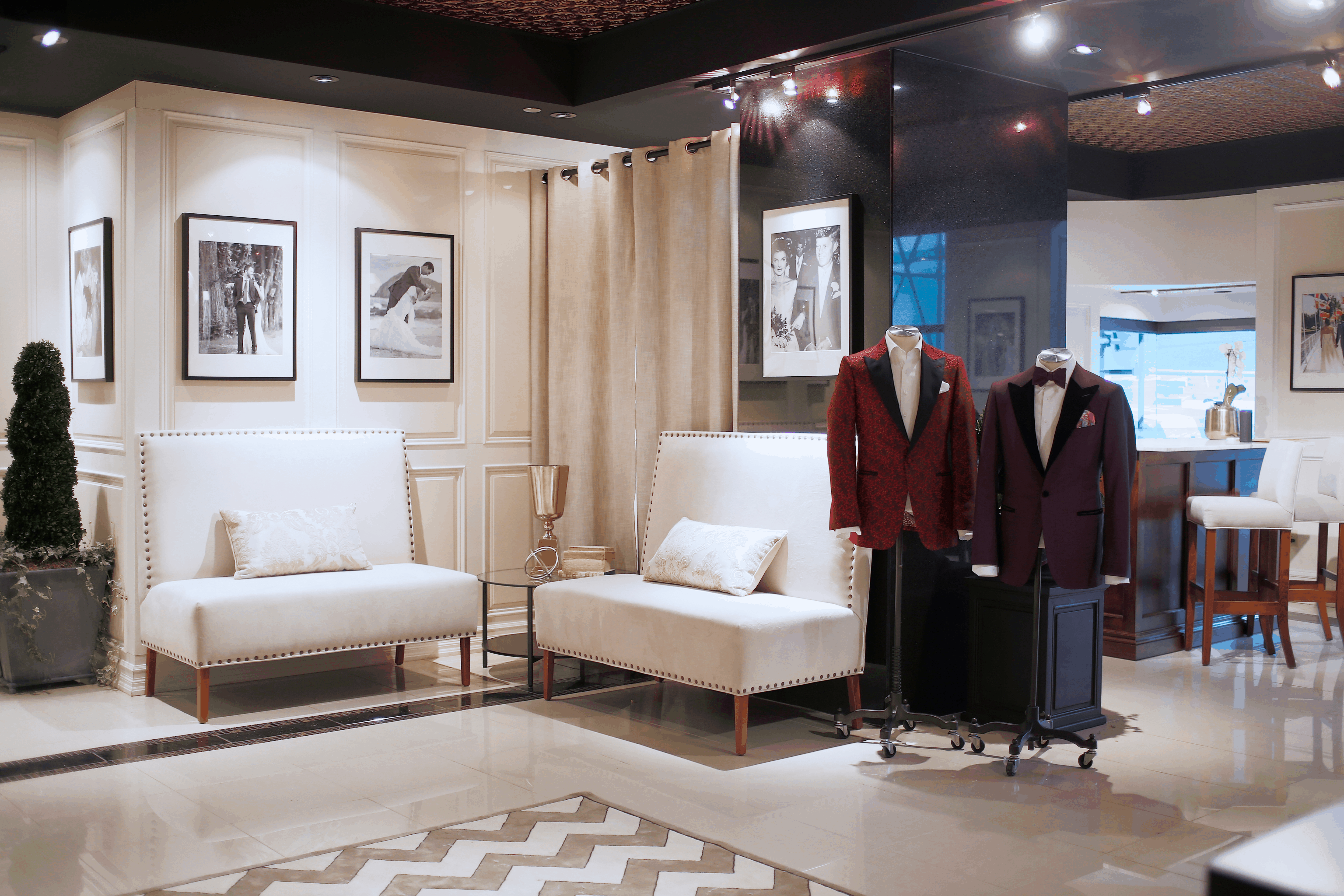 King Edward Hotel
Located at 37 King St E
Toronto, ON M5C 1E9

This shop is dedicated to dressing men for their celebration moments. The only store of it's kind in North America for uniquely tailored tuxedos to wear at a wedding or gala.