Custom Suits for the Formal Man
Wedding? Gala? We've got you covered.
Garrison Bespoke has been helping men stand out at formal occasions for years – and our measuring tapes are ready to help you stand out, too! We know that it's difficult to look unique in a sea of suits when attending a black-tie event, but we also know that a man who goes the extra mile to look his best at any event will always steal the show. We'll help you select the perfect shade of black for your wedding, or the perfect shade of navy for your Christmas party so that you'll be turning heads all day and night. Trust us, you'll be looking so sharp, even your boss or future father-in-law will be lost for words! Only the team at Garrison Bespoke understands what you need when looking for the best suit for formal events.
We don't get dressed for the things we already have, we get dressed for the things we're still after.
---
At garrison bespoke, we know that dressing for formal occasions means paying extra attention to the fine details.
The fabric, the lapels, even the buttons of the men's formal suit play an important role in making your statement – and we don't shy away from helping you make the best choices from top to bottom. Investing in a custom suit means paying close attention to the setting, the people and theme of your event – something that an off-the-rack suit can never anticipate – and most importantly, how the elements of the suit will stand out in photographs, which can be a little overwhelming for a man to consider on his own.
At Garrison Bespoke, an expert stylist will guide you through the whole process and make dressing for any formal event a fun and relaxing experience. We're happy to be apart of all your special occasions completely your own Bespoke men's suit for special events Toronto, ON.
---
AS CANADA'S LEADING CUSTOM TAILORS, WE'VE PERFECTED WORKING WITH THE MOST CHALLENGING OF BODY TYPES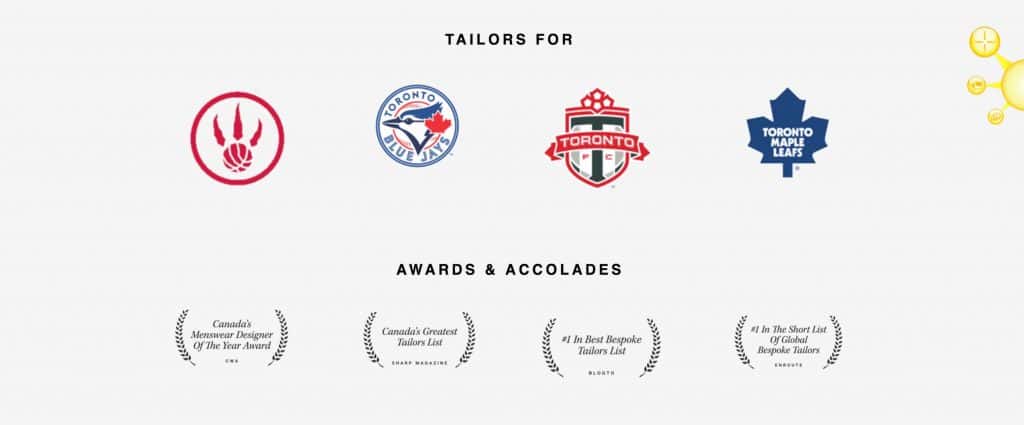 YOU DESERVE A WARDROBE AS DISTINCTIVE AS YOU ARE
Clothing that reflects the peculiarities of your lifestyle and the breadth of your imagination. In a single day, you might go from coffee with clients to a board meeting to a gallery opening to dinner with your family, and you need clothes that can keep up, stand out and, above all, feel like you. Consider us the paintbrush and palette you need to bring the closet of your dreams to life.
WE'RE NOT YOUR AVERAGE TAILOR
The signature Garrison Fit was made popular by our work on SUITS TV's Harvey Specter. Our suits are designed to accentuate your form, to move the way you do, to feel comfortable and look sharp no matter what you throw their way. Like we said, we're able to modify the look and fit of your suit down to the finest detail, but over our many years in the tailoring world we've determined a particular silhouette we feel works best for business.
---
Why Proper Design Matters?
HOW GARRISON BESPOKE DESIGNS YOUR SUIT
Look Leaner
Our house style features a lean, proportionate fit that cuts in at the waist to flatter your body's natural shape.
Look Stronger
Strong, crisp shoulders — finished with a beautiful hand-rolled cap —provide a broadening effect.
Shaped Arms
Narrow sleeves help the arms appear longer and more muscular.
Look Taller
A low button-stance, which sits at the narrowest part of your natural waistline, helps to elongate your overall shape. Higher-rise, trimly-cut trousers provide a longer, more elegant leg line.
Armour-like Construction
Our jackets are constructed using a three-layer canvas horsehair chest piece,which gives them a clean, wrinkle-free, armour-like effect across the front.
World's Best Fabric
CANADA'S LARGEST FABRIC LIBRARY
Authentic Scottish Tweed. English Mohair. French Wool. Italian Linens. We collaborate with the same heritage mills that supply the word's most luxurious brands – Tom Ford, Burberry, Zegna and Brioni.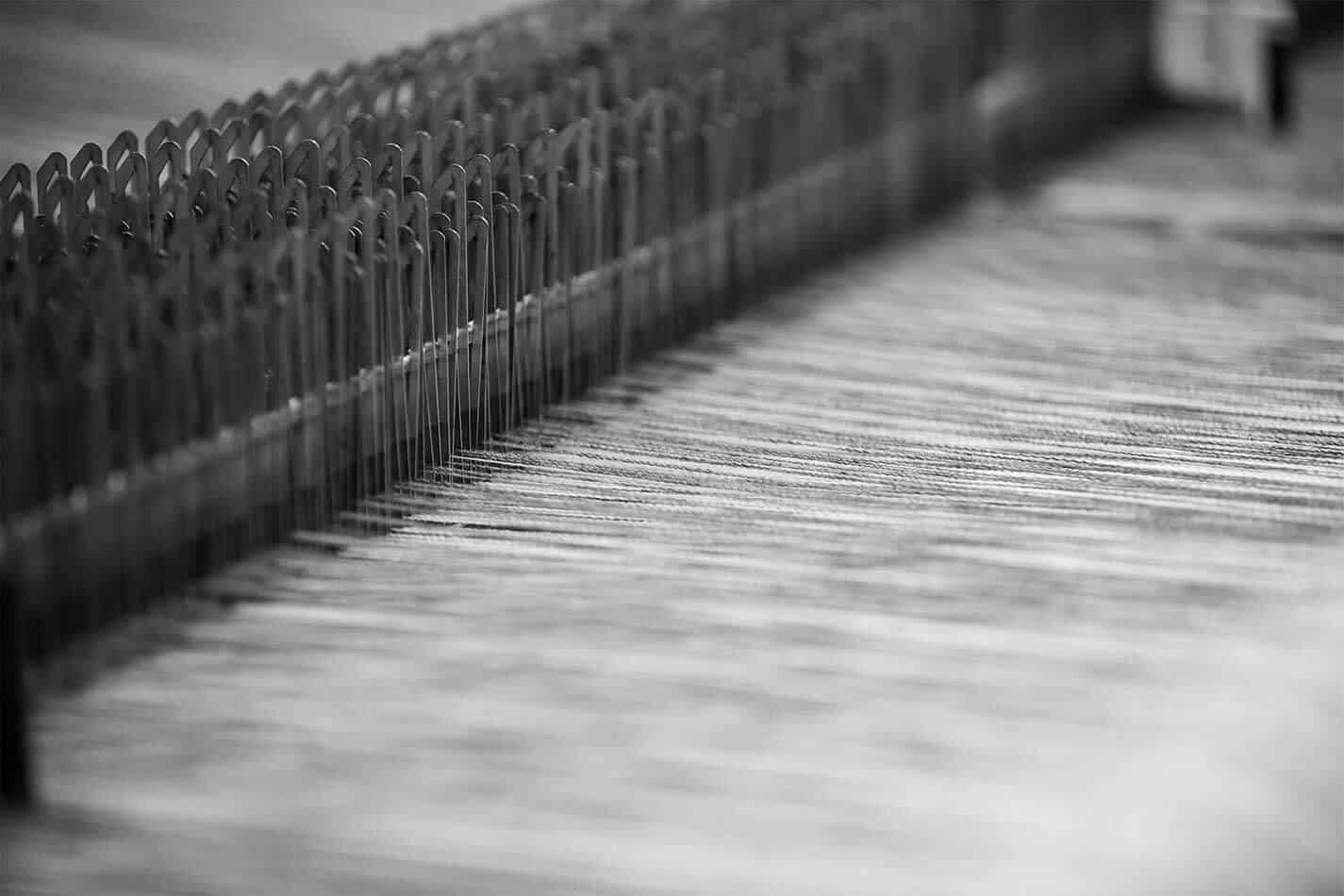 ---
YOUR GARRISON BESPOKE EXPERIENCE
Consult

Measure

Private lounge

Fittings

Delivery / Pickup
Let's talk about your look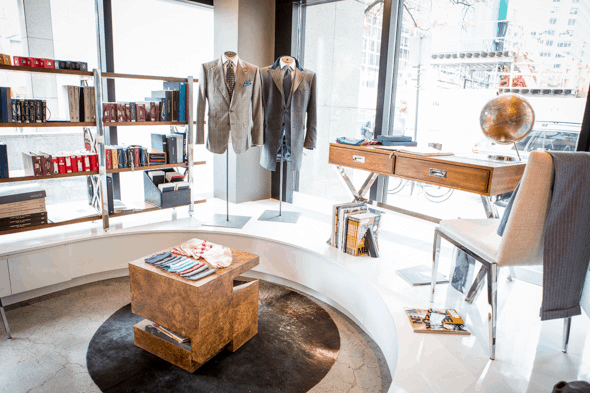 Financial District Flagship
Located at 26 Wellington St E.
Toronto, ON M5E 1S2

1 block east of Yonge St is convenient for all our Bay St. men looking to drop in between meetings or afterwork.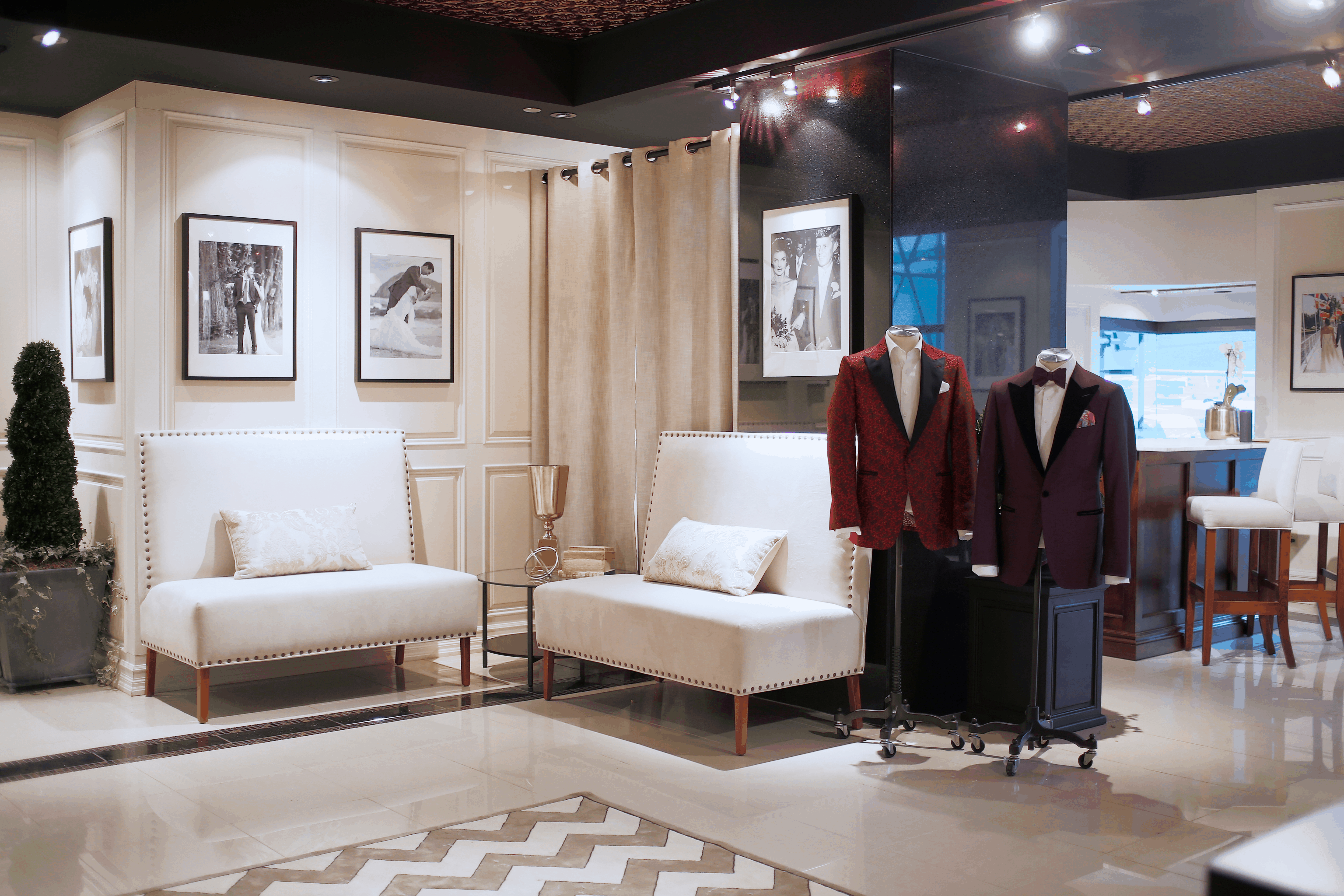 King Edward Hotel
Located at 37 King St E
Toronto, ON M5C 1E9

This shop is dedicated to dressing men for their celebration moments. The only store of it's kind in North America for uniquely tailored tuxedos to wear at a wedding or gala.
Stand Out From the Crowd With Garrison Custom Suits