A wedding dress can cost anywhere between $1000-20,000 and, in most cases, can only be worn by the bride once in her lifetime. A bespoke suit can cost between $1500-$5,000 and can be worn by the groom regularly for the rest of his life. (Obviously, the suit is the better investment of the two.) Yet, the groom will often settle for a boring off-the-rack suit or rented tuxedo, which can never provide the special look and feeling that a custom garment can create.
Now, this is not to say that a bride should be deprived of her right to a glamorous white gown; but it's time the groom started to get a bigger slice of the wedding wardrobe budget. After all, it is his special day too.
When dressing the groom, think about how to make him stand out in the crowd of suits scouring your wedding party. Below are three simple tips on how a groom can look (and feel) like a million bucks on nuptial day (without stealing any attention away from the bride):
1) In order to stand out, wear a different shade or textured cloth than the groomsmen.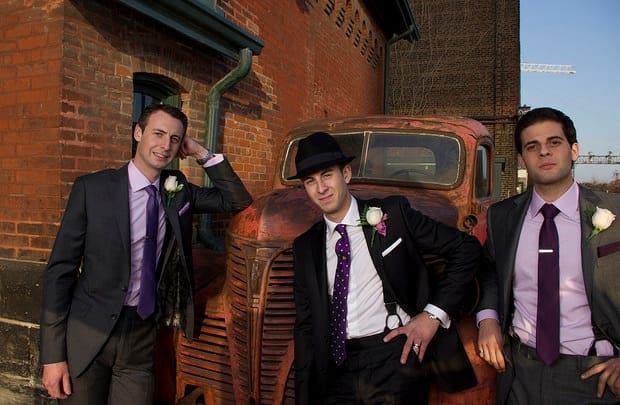 L.W. stood out at his November wedding in a two-piece black Dormieul stretch cloth, white cotton shirt and purple polkadot tie. In the background, his two groomsmen donned charcoal two-pieces, lilac shirts and solid purple ties.
2) Add character with personal touches (jacket lining, grosgrain, lapels, ties, socks, cuff links, etc.) that also make the look unique!
Markus added character to his vintage-inspried three-piece suit with a pink bow-tie. A checked shirt and pocket square accented the rustic farm where his wedding took place. For a bit of fun, he wore a brown leather belt with his favourite movie character on the buckle!
3) Don't skimp out on the shoes. The shoes always complete any outfit.
To offset his three-piece, Gatsby-inspired white suit, Berk opted for a pair of dark leather brogues. The shoes added an industrial-feel to the otherwise formal look, making the groom a standout among his guests.
_____________
Head into Garrison and work with one of our wedding consultants on how to look unique and stylish on your special day.