CELEBRITY TREATMENT AT NORTH AMERICA'S
FIRST CUSTOM SUIT SHOP FOR GROOMS
James Bond's Albert Thurston suspenders, Kanye West's favourite ties by Drake's London and the Holland & Sherry vintage barathea shirt and Barney's New York stud sets worn by Barack Obama at his wedding are just a few of the accoutrements available to guys at Garrison Weddings.
The first of its kind in North America, Garrison Bespoke opened Garrison Weddings, a bespoke shop exclusively for grooms and groomsmen. Located in Toronto's iconic King Edward Hotel, Garrison Weddings gives husbands-to-be the kind of royal treatment women have been treated to for centuries.


Garrison Weddings offers private, by-appointment-only experiences where grooms and their brides-to-be or their groomsmen sip champagne and scotch while perusing the largest selection of fabrics and formal wear accessories for men in Canada
You're in good hands.
THE GROOM DESERVES THE BEST IN THE GAME

Our grooms are in good company. Since opening its first location at King Street and Yonge Street in Toronto in 2008, Garrison Bespoke has attracted Toronto's most influential figures in business, finance, law, sports, fashion and food and entertainment including the cast of Suits TV and Hannibal, The Toronto Blue Jays, The Toronto Raptors, The Toronto Maple Leafs, Toronto FC and Drake to name a few.
What to Look For
THE TIMELESS TUXEDO
No matter what your wedding theme is, we always work with our couples to design a suit that is timeless. The goal is to ensure when you look at your wedding album 20 years from now, your photos don't look dated – think Frank Sinatra and The Rat Pack compared to photo's you might have seen with baby blue bell bottom suits.
Designed for Celebrations
FABRICS AND PATTERNS DESIGNED TO LOOK GREAT ON FILM
The same fabrics we've curated for our film and press conference work is made available for your big day. These fabrics have silk or mohair woven to give you a more vibrant and vivid appearance to compliment natural lighting or flash photography setups.
What makes Garrison Different?
WE'RE NOT YOUR AVERAGE TAILOR
The signature Garrison Fit was made popular by our work on SUITS TV's Harvey Specter. Our suits are designed to accentuate your form, to move the way you do, to feel comfortable and look sharp no matter what you throw their way. Like we said, we're able to modify the look and fit of your suit down to the finest detail, but over our many years in the tailoring world we've determined a particular silhouette we feel works best for business.
Why Proper Design Matters
HOW GARRISON BESPOKE DESIGNS YOUR SUIT
1. Look Leaner
Our house style features a lean, proportionate fit that cuts in at the waist to flatter your body's natural shape.
2. Look Stronger
Strong, crisp shoulders — finished with a beautiful hand-rolled cap —provide a broadening effect.
3. Shaped Arms
Narrow sleeves help the arms appear longer and more muscular.
4. Look Taller
A low button-stance, which sits at the narrowest part of your natural waistline, helps to elongate your overall shape. Higher-rise, trimly-cut trousers provide a longer, more elegant leg line
5. Armour-like Construction
Our jackets are constructed using a three-layer canvas horsehair chest piece,which gives them a clean, wrinkle-free, armour-like effect across the front
EVERY DETAIL OF YOUR SUIT…
Every detail of your new bespoke suit — from the stitching to the buttons — is fully customizable. Our expertly trained personal stylists will guide you in every aspect to ensure it nails the exact look and style you require. Want to maintain a classic, quiet confidence? We've got just the thing. Looking to stand out from the crowd and create a real buzz? We can do that too. We'll find exactly the right colours to suit your skin tone, help you decide on bold patterns or striking solids, and advise you on the right shoulder type, lapel width and overall fit based on your needs.
World's Best Fabric
CANADA'S LARGEST FABRIC LIBRARY
Authentic Scottish Tweed. English Mohair. French Wool. Italian Linens. We collaborate with the same heritage mills that supply the word's most luxurious brands – Tom Ford, Burberry, Zegna and Brioni.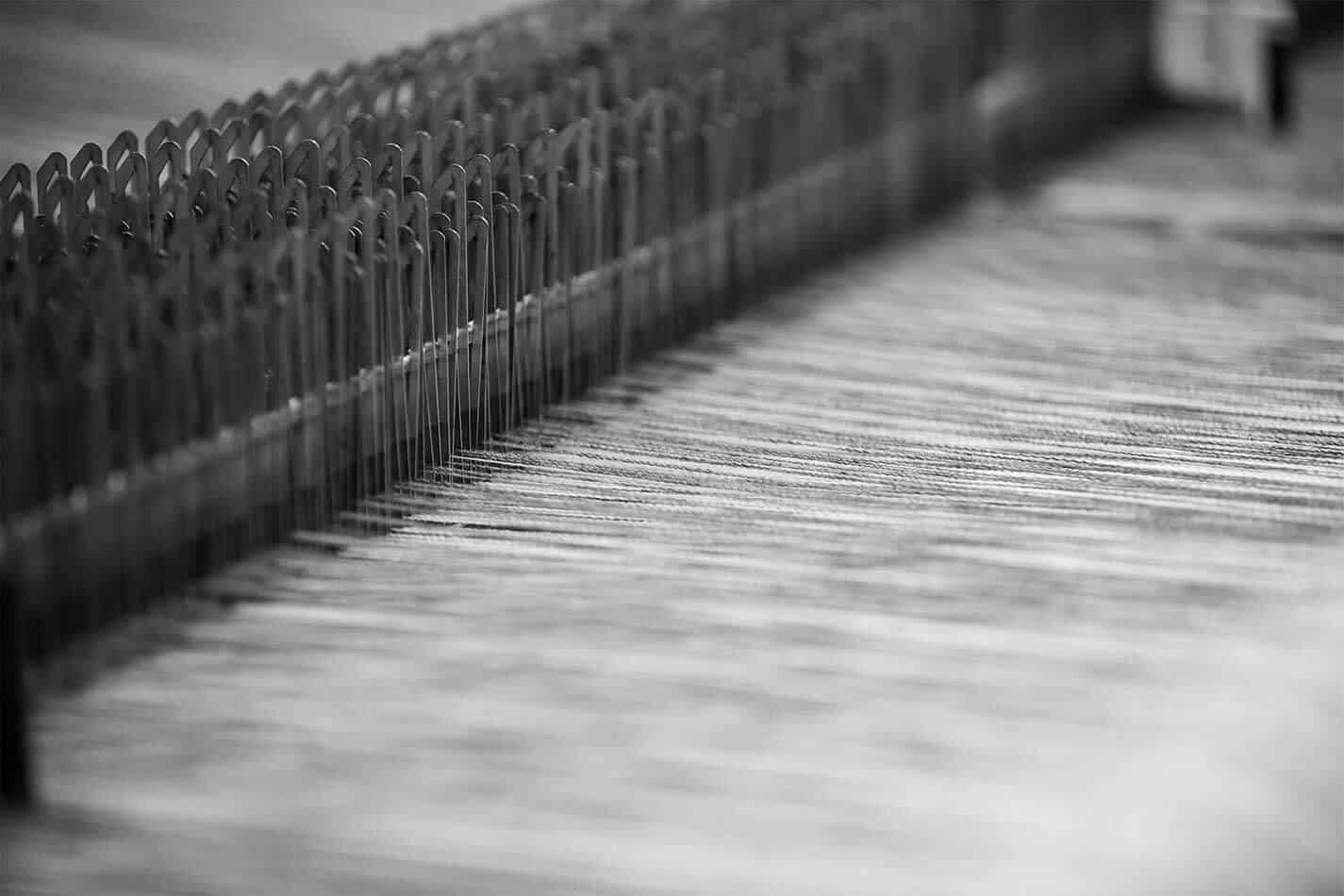 The Process
YOUR GARRISON BESPOKE EXPERIENCE
We're the only tailors in Canada that still fashion suits using the revered, timehonoured techniques of London's famed Savile Row. Known as the muslin fitting method, before we begin crafting your actual suit, we'll first create you a personalized "sample" suit from scrap fabric that'll allow us to hone in on the exact right style and fit. Once that pattern is perfected, we'll keep it on file to ensure all future garments you order will look as good and fit you as well as the very first time.
Let's Talk About Your Look
WHAT IMAGE DO YOU WANT TO CREATE?