YOU WEAR A SUIT EVERYDAY?
Look better doing it right. From boardroom to bar room – our suits are designed for all day performance and versatility. Our Business Collection is designed for long haul days and overnight flights.
You're in good hands.
AS CANADA'S LEADING CUSTOM TAILORS, WE'VE PERFECTED WORKING WITH THE MOST CHALLENGING OF BODY TYPES
WHY DO YOU WEAR A SUIT?
Let's begin with the reason. Why do you wear a suit? It isn't just because the occasion calls for it, nor is it merely because your office has a dress code. When you strip all the surface factors away, get down to the nitty-gritty of it, it's really quite simple: respect. It's about having respect for yourself, and earning it — no, commanding it — from those around you.
And to do that properly, to do it with dignity and conviction, you can't simply throw on any old off-the-rack getup. You need to be wearing the right suit. The kind of suit that draws attention for all the right reasons; that speaks to the depth of your character and the particulars of your taste. That's where we come in.
Designed for Business
YOU DESERVE A WARDROBE AS DISTINCTIVE AS YOU ARE
Clothing that reflects the peculiarities of your lifestyle and the breadth of your imagination. In a single day, you might go from coffee with clients to a board meeting to a gallery opening to dinner with your family, and you need clothes that can keep up, stand out and, above all, feel like you. Consider us the paintbrush and palette you need to bring the closet of your dreams to life.
What makes Garrison Different?
WE'RE NOT YOUR AVERAGE TAILOR
The signature Garrison Fit was made popular by our work on SUITS TV's Harvey Specter. Our suits are designed to accentuate your form, to move the way you do, to feel comfortable and look sharp no matter what you throw their way. Like we said, we're able to modify the look and fit of your suit down to the finest detail, but over our many years in the tailoring world we've determined a particular silhouette we feel works best for business.
Why Proper Design Matters
HOW GARRISON BESPOKE DESIGNS YOUR SUIT
1. Look Leaner
Our house style features a lean, proportionate fit that cuts in at the waist to flatter your body's natural shape.
2. Look Stronger
Strong, crisp shoulders — finished with a beautiful hand-rolled cap —provide a broadening effect.
3. Shaped Arms
Narrow sleeves help the arms appear longer and more muscular.
4. Look Taller
A low button-stance, which sits at the narrowest part of your natural waistline, helps to elongate your overall shape. Higher-rise, trimly-cut trousers provide a longer, more elegant leg line
5. Armour-like Construction
Our jackets are constructed using a three-layer canvas horsehair chest piece,which gives them a clean, wrinkle-free, armour-like effect across the front
EVERY DETAIL OF YOUR SUIT…
Every detail of your new bespoke suit — from the stitching to the buttons — is fully customizable. Our expertly trained personal stylists will guide you in every aspect to ensure it nails the exact look and style you require. Want to maintain a classic, quiet confidence? We've got just the thing. Looking to stand out from the crowd and create a real buzz? We can do that too. We'll find exactly the right colours to suit your skin tone, help you decide on bold patterns or striking solids, and advise you on the right shoulder type, lapel width and overall fit based on your needs.
World's Best Fabric
CANADA'S LARGEST FABRIC LIBRARY
Authentic Scottish Tweed. English Mohair. French Wool. Italian Linens. We collaborate with the same heritage mills that supply the word's most luxurious brands – Tom Ford, Burberry, Zegna and Brioni.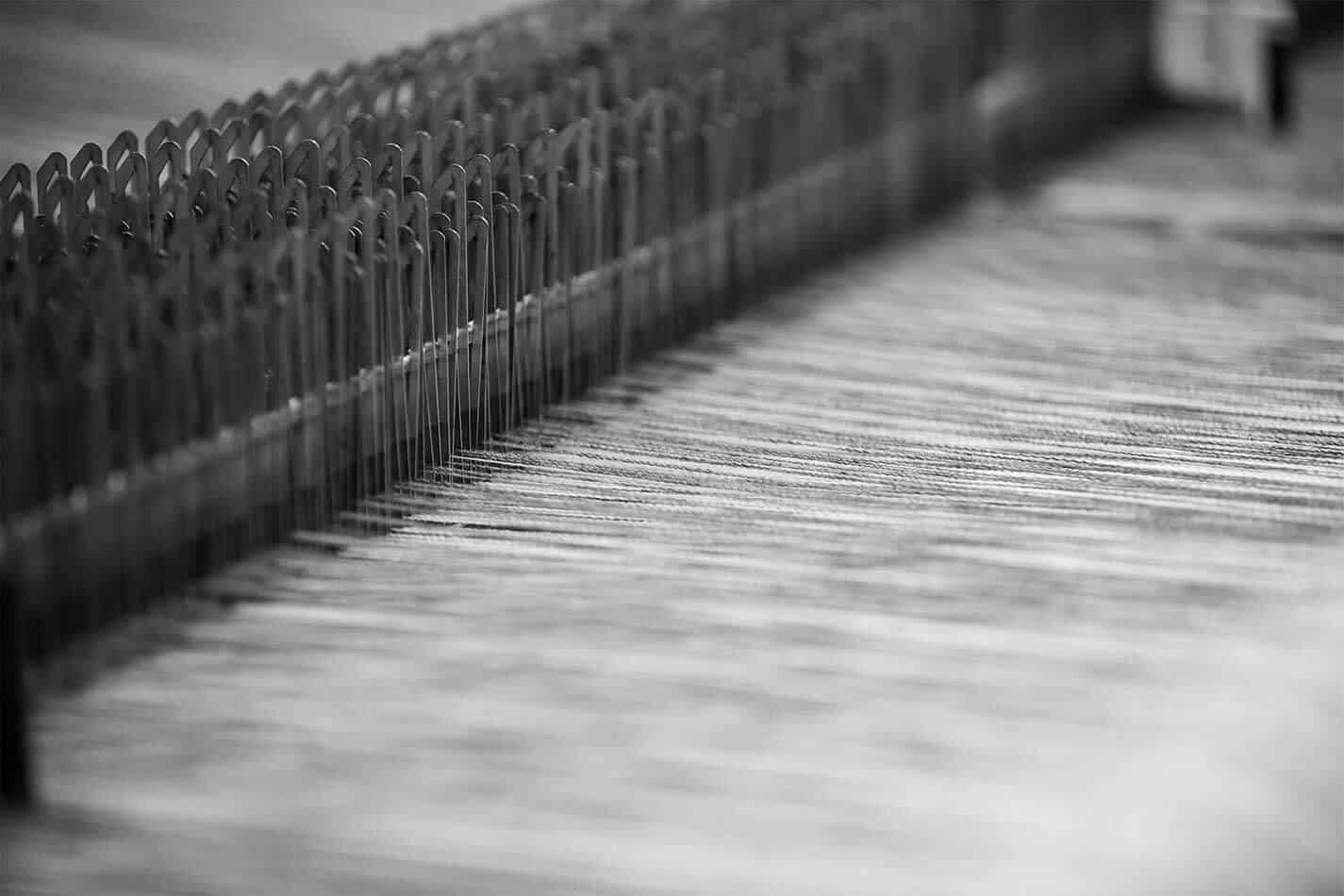 The Process
YOUR GARRISON BESPOKE EXPERIENCE
We're the only tailors in Canada that still fashion suits using the revered, timehonoured techniques of London's famed Savile Row. Known as the muslin fitting method, before we begin crafting your actual suit, we'll first create you a personalized "sample" suit from scrap fabric that'll allow us to hone in on the exact right style and fit. Once that pattern is perfected, we'll keep it on file to ensure all future garments you order will look as good and fit you as well as the very first time.